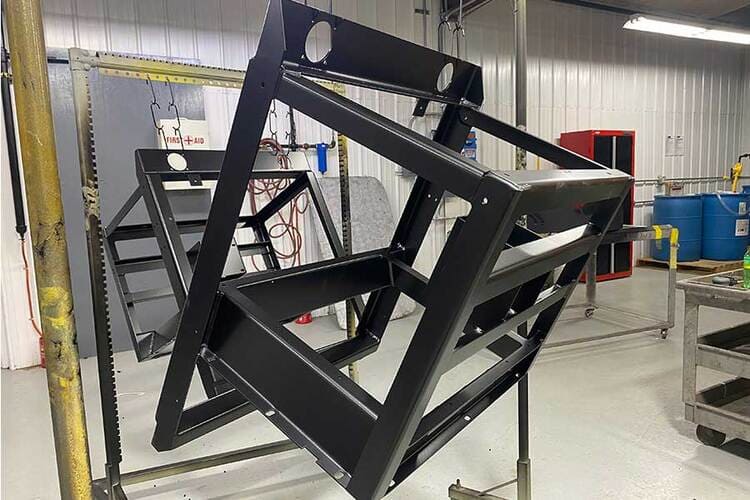 Give Your Project a Professional-Looking Finish with Metal Finishing Services
After carefully planning your project's design, the last thing you want is for it to look dull and unpolished. That's why we offer metal finishing — including powder coating, painting, and vibratory tumbler services — to help make your project pop.
Our Advanced Metal Finishing Equipment
Enclosed Paint Booth 34' x 16' x 13' tall
DuPont Color Net Paint Matching System
Sand Blasting / Glass Bead Room 28' x 20'
Sand Blasting / Glass Bead Cabinets 48" x 48"
SWECO Vibro Finisher
Simco Vibro Finisher
36" Wet System Time Saver
Doucet Stroke Sander 48" x 96" Table
Trust the CMD Team With Your Next Project
Our highly-skilled team across multiple areas of expertise will deliver a finished product that meets or exceeds your expectations.
Our Metal Finishing Services
Powder Coating
Our in-house powder coating system saves time and costs associated with outsourcing and reduces the risk of your parts being damaged during transit. We can powder coat your steel, aluminum, and magnesium parts, which results in a durable finish that will protect them from wear.
Painting
Whether you're looking to paint a new metal project or touch up an old job, we can accurately and efficiently paint your parts, resulting in a decorative, protective layer. Our in-house sandblasting equipment allows us to get a clean surface, ensuring a smooth finish.
Vibratory Tumbler
Our vibratory tumbler equipment allows us to mass finish small parts, saving your operation time and money. This kind of finishing is often used for deburring and rust removal, and can also brighten and polish your metal parts.
Work with the Metal Finishing Experts
Cameron Manufacturing & Design is a custom fabrication company that serves thousands of clients nationwide. Since 1983, we've been focused on quality workmanship, on-time delivery, and unmatchable customer service. With a wide scope of metal fabrication services, we'll work with you to deliver a high-quality product from ideation to completion.
Ready to start your metal finishing journey? Contact us for a quote.